The Real Difference Between Professional and Insta-glam Makeup | Tip Tuesday


Photo below: Desirae Gooding Photography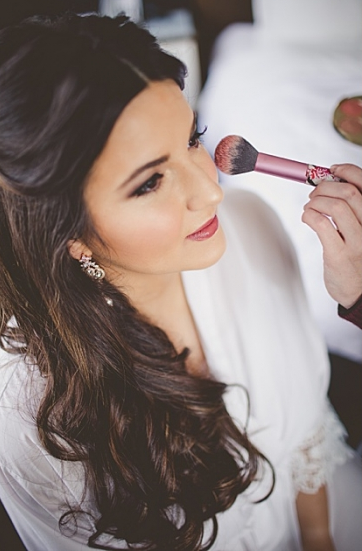 You have probably been all over Instagram and the makeup looks are starting to blur together. It is hard to tell what will look good on you and what you think is pretty. So put down the contour stick and let me tell you the difference between your favorite Insta-glam accounts.
hERE'S THE DIFFERENCE BETWEEN x-pro ii and THE pROFESSIONALS
Reality. I know this sounds silly but the biggest difference between a professional and Instagram makeup artist is real world experience. Getting makeup to look good on camera for 5 minutes on yourself is vastly different than getting makeup to stay put for hours, on other people's skin, outside or in the rugged terrain that is a wedding day. Real makeup artists have the ability to analyze your skin tone, texture and needs, to apply the products that are best suited to you. This real world experience is what makes the difference.
Longevity. You have to remember that you will be rocking your look all night and you should be able to! How the makeup is prepped plays a HUGE part in how your makeup will wear. Professional artists are trained to make sure that your look lasts and while Instagram artists take hours for application of their look, it rarely has to last longer than filming - so though it may look flawless for a video, the wear time is usually less than stellar.
Texture. I feel like clients come to me with images from pinterest and Instagram and request a look that requires literally POUNDS of makeup to achieve. I am all for flawless but something you'll find is that the amount of makeup that is required to achieve some of these looks is very unnatural in person. Many of the techniques that Insta-glam artists are using are based in Drag makeup- which if you are a man trying to look more feminine, are perhaps totally necessary. But if you are a bride trying to look your best, maybe you don't require 3 layers of foundation and a full bake.
Product Knowledge + Source. What is this product and why are we using it? You saw it on Instagram and someone said it was…..good....okay? That's not a good enough answer for me to use a product. I want to know WHY this product is better and HOW it was created and by WHO. Knowing all the important stuff when it comes to the what, why, how, and whos of the products is one major factor that does often times go overlooked by Insta-glam artists for many reasons. A professional takes the time to understand the products they are using in order to create the best looks for you.
Whether you are going full glam or subtle and sweet, it is important to know the difference between an Instagram filter and a professional makeup artist. With our professional team of makeup artists, you are sure to be the most beautiful version of yourself, both in person, and on the gram.